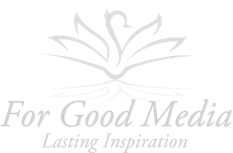 Submission Requirements
Thank you for your interest in For Good Media!  We specialize in publishing inspirational books in hardcover, trade paperback, and eBook/print-on-demand originals, as well as web and DVD videos.
Our vision is to 'self-help' those who want to self publish.  What we did for "Visions of Light: A Christmas Story" is a repeatable process and For Good Media can help you through it.  For example, if there are 10 main steps to publishing and you have 6 of them covered, hire For Good Media for the other 4 and utilize the network of professions that we have assembled.
We're just getting started with this process but feel free to reach out to us at  submissions@forgoodmedia.com for more information.